Habanos cigar lounge Atlanta, GA (Castleberry Hill)
In one of Atlanta's hot and creative areas you'll find one of it's anchors…Habanos cigar lounge, located in the Castleberry Hill neighborhood.
Google describes the area "Castleberry Hill is an industrial area turned trendy, with residential lofts and indie art galleries in old warehouses. The neighborhood is also a popular filming location, and walking tours take in sites like The Gulch, a derelict space often used in major TV shows and movies. The casual, eclectic dining scene encompasses everything from Southern soul food and hearty Mexican to creative sushi"
Habanos cigar lounge is classic and industrial just like the neighborhood that it reps; exposed brick and ceilings of extreme height, hardwood planks under your feet and a beautiful bar that's long and encompassing, texture, check, atmosphere, check, sensations and libations, double check…you want it they got it !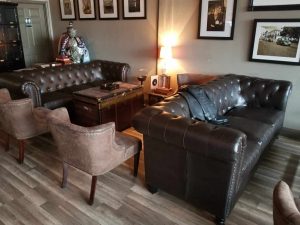 Dona Mathews, and her husband Michael Paul, along with business partner Karl Booker are the owners of Habanos cigar lounge.  They have been open since November 2016 and have worked their way into most cigar conversations here in the ATL.  I first visited this spot about a year and a half ago for the first time and liked it right away, Micheal made my wife and I feel right at home, and ditto for the friends I would bring on following visits.
Most recently, I had the opportunity to spend some time at the shop with Dona…not only is she part owner, budding tobacconist and equal manager; but she's also the resident marketer.  The social media presence the lounge enjoys is a direct result of her hard work, she gets it done in a male dominated industry.  Also the heavily influenced Bombay decor is something she is really proud of.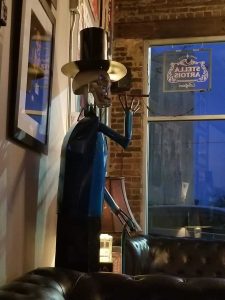 The cigar smoking here is given the respect it deserves, the staff is trained to clip and light your cigar, and the leather couches call for you to sit and enjoy.  There's room for a decent amount of people, and when busy, you can still communicate with friends without yelling.  The humidor while not super expansive, still offers-up some pretty nice sticks…on my most recent visit i tried one of their house cigars, it was a medium-bodied Nicaraguan creation that could hold it's own with most $10.00 sticks, well done !  As a cigar smoker I'm usually most interested in the cigar variety and smoking environment available; but this place enjoys a well deserved reputation for it's drinks, libations, cocktails, lot's of people walk in and place their drink order first, and then their favorite stick (i'm the exact opposite…lol).  All things considered, this place is really what's missing from most up-and-coming trendy areas…it's not overdone, it's not pretentious, it's not lacking in the many ways one might think when considering a spot like this, it checks the boxes and crosses the T's.
So the next time you venture up or down from the burbs' check out Habanos cigar lounge…look up Michael and Dona, grab a stick and have one of their hot drink concoctions ; and maybe bring Michael a "Rocky Patel Vintage 1999" , I hear it's one of his favorites.
Happy smoking